Introducing Greg's brand new Community-Focused Version!
It's ready for download on iOS and Android right now.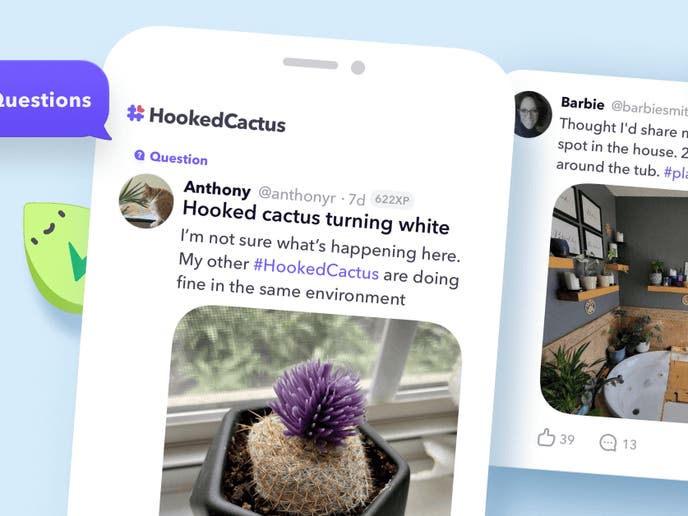 When we launched in 2020, our goal was to leverage the newest tech and our deep understanding of plant science to build the best plant care app out there. A year later, as we continue to deliver on that promise, our next version also reflects an expanded focus of making growing plants a far more social experience.
Click here to download the latest version of Greg on your device.
After you download the new version you'll notice some changes straight away. We replaced the old home screen with a dynamic new social feed, showcasing Moments (plant pics you post) right at the top. These were moved over from the Discover tab for more visibility, and we love these windows into what our community is growing around the world, keep 'em coming! 😍
We'll develop the feed even further in future versions, but in this first iteration we're super excited to introduce these two core features:
Community-Powered Q&A
You have plant questions and Greg users have answers
What's worse than Googling a plant-related issue and getting search results telling you that "you're either overwatering or underwatering your plant"? Well, which one is it?! 🤔
Instead of helping, generic plant advice without any real-world context can frustrate even more. That's why we developed tools that allow you to query more experienced growers in the Greg community for the answers you need.
So, the next time you encounter a problem with your plant, post a question by tapping the + in the bottom navigation menu of the app, and we guarantee you'll get a helpful response from a real, live person from the Greg community within 24 hours or less. 🙌
Generic advice, no more! By attaching your plant's Plant Card (which displays your plant's location, lighting conditions, size, drainage, etc.), you'll be sharing the critical context that goes into pinpointing your plant's exact issue, so our community members can better arrive at a super-targeted solution. 🎯
How do you add a question?
Open Greg, tap the + on the bottom menu, then 'Ask a question'
Enter your basic question in the top field, then share more context in the field below
Make sure to also tap the icons on the bottom right to add your Plant Card plus recent photos to help the community understand your issue
Depending on your settings, you'll be notified when you get a response via push notification and/or in-app notifications
#Communities
Hashtag-powered content channels around shared interests
We're also rolling out #Communities (aggregated content channels, built around hashtags) to make it easier to discover plant-related content on Greg.
We've launched #Communities around specific plant types that you can follow and contribute to for a more focused conversation around the plants you're growing, ie: #GoldenPothos. But you can also create more granular #Communities of your own, ie:
#GoldenPothosNYC, if you want to connect with local growers, or even more general groups, ie: #FallColors 🍁, #QueerPlantParents, etc. We're really looking forward to seeing how creative the community can get with new #Communities, so don't hold back!
How do you discover #Communities?
Lookout for #Community section titles in your main feed (these won't be tappable at launch, but will be shortly after)
Hyperlinked words with a hashtag in front of them will be tappable at launch, and take you to each #Community's page, where you'll be able to tap the purple 'Join' button to subscribe to notifications for this #Community
You'll also be able to discover new #Communities via people's Plant Cards
How do you create a #Community?
Just by putting a hashtag in front of a word when you post or comment on a post, you've effectively created a brand new #Community. Have fun with it! And make sure to @mention friends, so they can learn about and join the #Communities you create.
How do you manage #Communities?
We're currently working on creating tools to help you better discover #Communities and manage the ones you've already joined. Stay tuned for updates as we roll out these improvements.
We're all about building tools for plant parents that are both useful and fun, and this new version feels like it strikes that balance, better than ever before. If you agree, please leave us a review on the App Store / Play Store. It's a real gift to the team and makes a genuine difference in helping us grow the Greg community even more. 💝
We really hope you love the direction we're moving in, and, as always, if you have any comments, questions, or even constructive criticism, hit us up at: support@greg.app
Happy to grow alongside you!
All of us @ Greg 💕